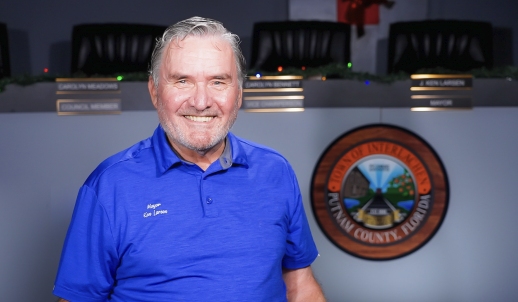 Ken Larsen
Email: [email protected]
Ken and his wife have called Interlachen home since October of 1979. They and their large family moved to Interlachen from New Jersey. He had worked construction in New York City and owned a kitchen renovation business before coming, so the challenge of renovating the large historic home was less daunting than it appeared. It was exciting to think of making it home, with the help of their four sons. Even the younger children were on board to help in small ways.
Ken has held positions of trustee and treasurer in various churches he has belonged to and values the friends he has made along the way. In addition to the four sons born to the them, Ken and Laverne, his wife of 60 years, have adopted and fostered many children, and are also blessed with 23 grandchildren and 18 great grandchildren.
In 1986, after a serious industrial accident, he graduated from Santa Fe college, with an Associate of Science degree in computer science. He owns Heavensent Glassworks and Kenkraft Signs in Interlachen.
Ken and Laverne were board members and administrators of Beracah Christian School in Interlachen.He served on the town council from 2004 to 2012 and has served as mayor since 2012.