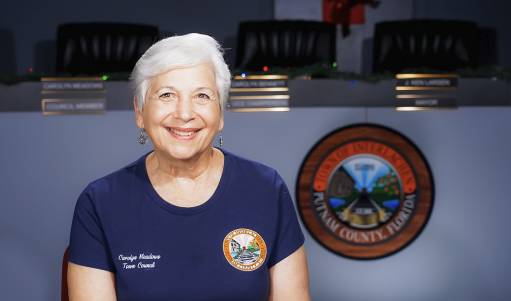 Email: [email protected]
Bio:
Carolyn Meadows retired from teaching in 2011. She has been a practising Registered Nurse for over 40 years. Carolyn currently works part time for a local hospice team.
Raised in Ohio she moved to Putnam County in 1975 with her husband Gene, who was raised in Interlachen, and their children. A temporary move took them to Broward County from 1988 – 1999 to further their careers in medicine. In 1999 when the opportunity to move back to Putnam County arose they chose Gene's home town of Interlachen to be their forever home.
In 2011 Carolyn began her first term as a member of the Interlachen Town Council. She was re-elected in 2013 and currently serves as the Council Vice Chairperson. As a concerned citizen Carolyn Meadows feels it is an honor to serve the people of her community.
Carolyn and Gene Meadows have 3 grown children and several grandchildren. Carolyn is very active in her local church, her work with Hospice and spending time with her much loved grandchildren.